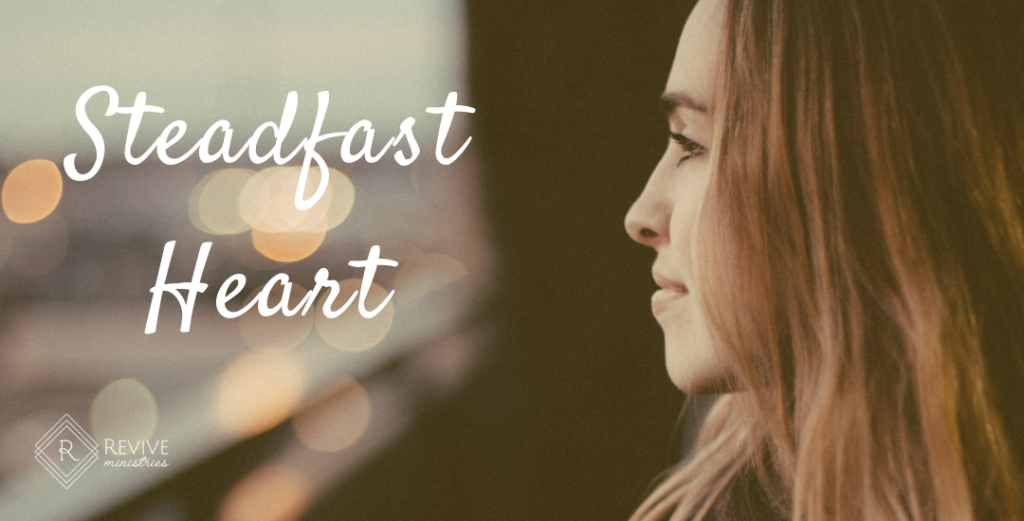 Surely the righteous will never be shaken; they will be remembered forever. They will have no fear of bad news; their hearts are steadfast, trusting in the Lord."

Psalm 112:6-7
When things are going really well and life seems calm, do you sometimes find yourself waiting for the other shoe to drop? Do you allow worry to cast a shadow over your present blessings? I am currently coming out of of a long season of difficulty and waiting. Even though I am generally an optimistic person, some of the recent knocks of life have led me to be cautious, keeping me from joy in the present.
A few years ago, my husband and I both found ourselves out of jobs in the same weekend. When I heard the news, I had no idea what we were going to do. It felt like the air had been sucked out of the room. In the back of my mind, I believed that God would work on our behalf to bring purpose and blessing in our situation. What I couldn't anticipate is how long it would take.
I was fortunate to find work fairly quickly, doing something that I love. My new income provided just enough to squeak by each month.
Despite my husband's efforts to find a teaching job, not a single door had opened for him. We continued to limp along and I convinced myself that I just had to rally a little longer, keep burning the candle at both ends, to make it all work. When you have been waiting a long time for a rescue, you begin to feel like you have to make it happen. It is easy to grow weary and start doubting God's faithfulness and provision. I was foolishly deceived into thinking that our survival depended on me, because it was the only thing I felt I could control.
Finally, our season of waiting was coming to a end, and by God's provision, my husband started substitute teaching at the local Christian school where our children attend. It filled the financial gaps and provided just what we needed, right when we needed it. By the end of that year he was offered his dream job, a full-time teaching position at that school.
After what felt like forever, we had two incomes again, stability in our schedules and in our finances. Despite all this, I never relaxed. I hadn't switched out of survival mode. I still stressed out over the finances and felt stuck in anxiety. I was waiting for the other shoe to drop. I didn't truly believe the storm was over and that I could stop and take a deep breath.
I had been so busy worrying that bad news was just around the corner, that as a result, I was missing out on the joy of answered prayers. That's why Psalm 112:6-7 touches a tender place in my heart. (Verse 7 especially)
"Surely the righteous will never be shaken; they will be remembered forever. They will have no fear of bad news; their hearts are steadfast, trusting in the Lord."
While this is a struggle I am still growing through, it is a comfort to read these words and be reminded that I don't need to fear bad news. I don't need to take matters into my own hands, I need to loosen my grip and trust my Heavenly Father. When I slow down and zoom out to the big picture, I can clearly see God's constant and steadfast presence in every detail.
Circumstances are ever changing. But God remains strong and steady. He will never change. His goodness and love endures forever. God has already planned ahead for my needs. So today I choose to rejoice and be glad in the day the Lord has made.
I will live in the moment and appreciate what the Lord has done for me, in any circumstance, good or bad. As I trust in Jesus, he makes my heart more like Him-steadfast and secure, and unshakeable.
In whatever season you find yourself, I pray that you will step back and pause and look for Jesus. He is there, ready to provide for your every need and hold you steady. Trust in Him and have no fear.