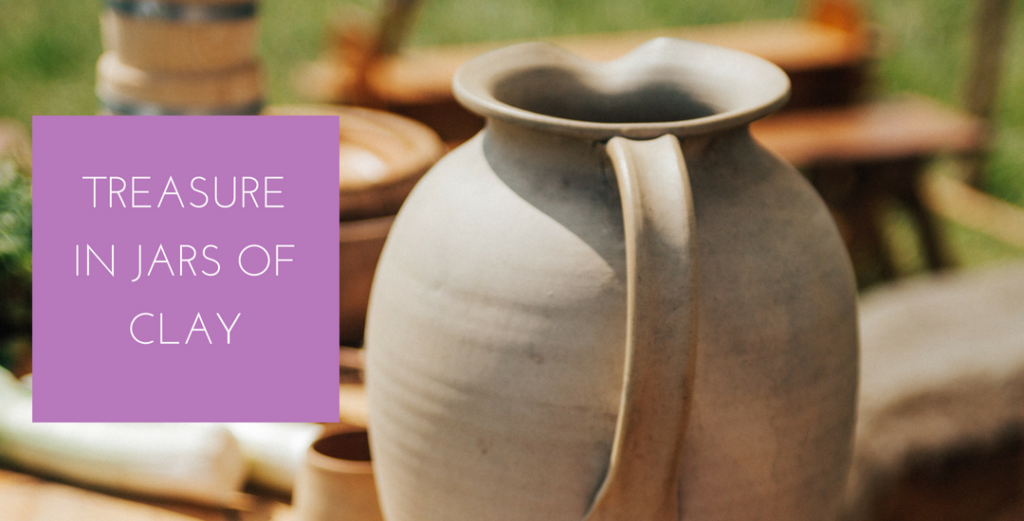 For God, who said, 'Let light shine out of darkness,' made his light shine in our hearts to give us the light of the knowledge of God's glory displayed in the face of Christ. But we have this treasure in jars of clay to show that this all-surpassing power is from God and not from us. We are hard pressed on every side, but not crushed; perplexed, but not in despair; persecuted, but not abandoned; struck down, but not destroyed."

2 Corinthians 4:6-9
There are days I feel like I can take on the world, but most days I am caught in the hamster wheel of life, just trying to get from one day to the next. I don't always feel smart enough or strong enough or worthy of the calling.
I was encouraged recently when I came across the above scripture. In 2 Corinthians 4:7, the Apostle Paul tells us that we are like "jars of clay" with a "treasure" inside. Paul used a metaphor of clay jars to symbolize our physical bodies. Elsewhere in scripture we are referred to as being made from clay (Genesis 2:7; Psalm 103:14). Just like the clay jars in ancient times, our bodies come in all shapes and sizes, each designed for a specific purpose (Isaiah 45:9; 64:8; Romans 9:21). Our bodies are beautiful, functional, and yet breakable.
Our "jars of clay" hold a valuable treasure that God has given us. It is "the light of the gospel that displays the glory of Christ" (2 Corinthians 4:4), the knowledge of our Creator through His Son, Jesus Christ (John 14:26).
I know without a shadow of a doubt that I am a fragile clay jar. I'm reminded every day of my frailness when I say something unkind, when my body doesn't work like I want it to, or when illness strikes. And then I wonder . . . why would God choose to put His greatest treasure in me? Why does God use fragile earthen jars to carry His greatest treasure?
Could it be that that is where His light shines the brightest? Sweet sisters, the moment you and I placed our faith in Jesus Christ as Lord, we were given a treasure. Paul defines this treasure in 2 Corinthians 4:6 as "the light of the knowledge of the glory of God." God sent His Son into this world to shine light into the darkness, to expose people's sin and to point them to the only answer, Jesus Christ. And now God has left that light shining in our hearts.
It seems inconceivable that God would choose to use us to carry the spectacular, brilliant, blinding treasure of the Gospel! He's entrusted it to our weak, broken jars because it's through our cracks and holes that His light shines through.
"To show that the surpassing power belongs to God and not to us." 2 Corinth 4:7b
When we are weary and wandering through the valleys of life, that is when in Christ we must live through the power of God and when His light shines brightest. Apostle Paul knew that the treasure within him—the gospel—was the only thing able to give him the power to face the valleys before him.
Let us not forget that the power to face our valleys comes from the treasure inside and not of ourselves.
Paul continues to encourage the church with these words: "We are afflicted in every way, but not crushed; perplexed, but not driven to despair; persecuted, but not forsaken; struck down, but not destroyed" (4:7). Are you feeling stuck, lost, confused, or lonely right now? Here's your promise and hope, dear one: whatever valley you are facing, it will not crush you; you will not be driven to a pit of despair that you cannot be delivered from; you will not be forsaken or destroyed.
Writing these truths on your heart will help you to remember that while you do not possess the power to endure the hard things you face on your own, you have the power of the Holy Spirit working in you on your behalf! This passage reminds us that our times in the valley are an opportunity to witness God's power, might, mercy, loving-kindness, and sovereignty for His people. We not only have a treasure inside these jars of clay; we also have His life in us–we are living testimonies of God's deliverance.