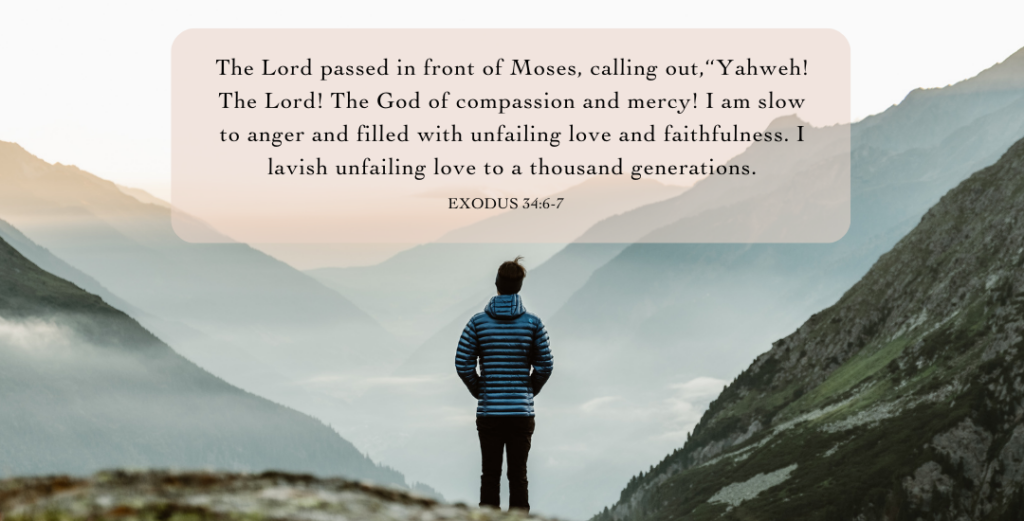 I grew up going to an a capella church and have loved singing pretty much from the moment I could form words. Now and then, one of the old church hymns will get stuck in my head and become the soundtrack to my day. It cracks me up that somehow my brain still remembers the words to just about every song, but I can barely remember my email passwords.
One morning, a few years ago, I woke up with the hymn, "Standing on the Promises of God" stuck in my head. As I got ready for the day, the second verse was playing on a loop in my mind.
Standing on the promises that cannot fail,
When the howling storms of doubt and fear assail,
By the living Word of God, I shall prevail,
Standing on the promises of God.
The fact that this particular song came to mind during this particular season of life, was no coincidence. My husband and I were facing major job changes, we had a new baby on the way and it was pretty unclear how all the details of our suddenly complicated life would fall into place. This song reminded me right when I needed it most, that we could stand firm on God's promises, even when everything else felt like shaky ground.
That's a big deal when the world we live in often operates under a different model. You may have even heard the expression, "Promises are made to be broken." We've all experienced the sting of disappointment when someone breaks a promise, great or small. But where other people fail, our Unfailing God never disappoints.
Author, Jennifer K. Dean said in one of her books "A promise is only as good as the person who makes it. The character of the promiser is what gives the promise its value." One of the ways God reveals His character to us is through the promises He makes in the Bible. Knowing that God is who He says He is, and that He will do what He says He will do, helps us to respond in faith.
In Exodus 3:13-15, God told Moses that he would free the Israelites from hundreds of years of captivity and lead them out of Egypt to a land that God was promising them. Moses asked God who he should say sent him when He went to lead the people, and God replied, "Tell them "I Am who I Am" sent you." In one statement, God established His character as the God who always was, who is now, and who always will be. He is constant, and never changes, He is eternal, with no beginning and no end. Everything He says is true because He himself is Truth.
And because "I Am" said, "I Will", Moses believed in God's promise. Moses' confidence was bolstered and he stepped out in faith, not because of his own ability or credentials, but because of God's.
Throughout the Bible, God makes and keeps His promises in relationship with people. His covenants are invitations for His people to partner with Him, to work together to ultimately renew God's relationship with everyone. God gives them a role to play in His plan and asks for commitments on their part. He gives them instruction and guidance for how to live so that they can enjoy the blessings He has in store for them, and for generations to come.
And even though they grow impatient with God's timing, or fail to do their part, God still does His. There are consequences for sin, and sometimes the blessings are delayed until they return to God and to right relationship with Him. But despite their failings, God's promises are not dependent on their perfection, ability, or flawless obedience. Instead, God reveals himself as "The God of compassion and mercy, slow to anger and filled with unfailing love and faithfulness. He lavishes unfailing love to a thousand generations and forgives iniquity, rebellion, and sin." Exodus 34:6-7a (NLT)
And we are just the same today, aren't we? Time and time again, in our relationship with God, we make commitments to follow Him, to strive to be more like Him, only to stumble and fall. But God's faithfulness and love are the same yesterday, today, and tomorrow. And because of His lavish love for us, God sent Jesus as the fulfillment of every promise, to be the faithful covenant partner that we could never be so that anyone can have a renewed covenant relationship with Him forever. Because of Jesus, we can stand on God's promises and the truth of His character. We can enjoy the blessings of relationship with Him, and receive His compassion and grace when we fail.
And every season, whatever we are facing, we can turn to God's Word, remember His promises, and the truth of His character, and we will stand firm. God's track record is flawless. So when the I AM says "I Will", we can rely on it. We don't have to be perfect, because Jesus is. We will make mistakes, but God already planned ahead for that. The storms of life will come, but we are safe in the arms of the Almighty God. And there's nothing that can separate us from His unfailing, lavish love, because God himself is love, and he has gone to the ends of the earth to make sure that we can always be with Him.
So stand upon His promises that cannot fail and when the howling storms of doubt and fear assail, by the living Word of God, we shall prevail, standing on the promises of God.