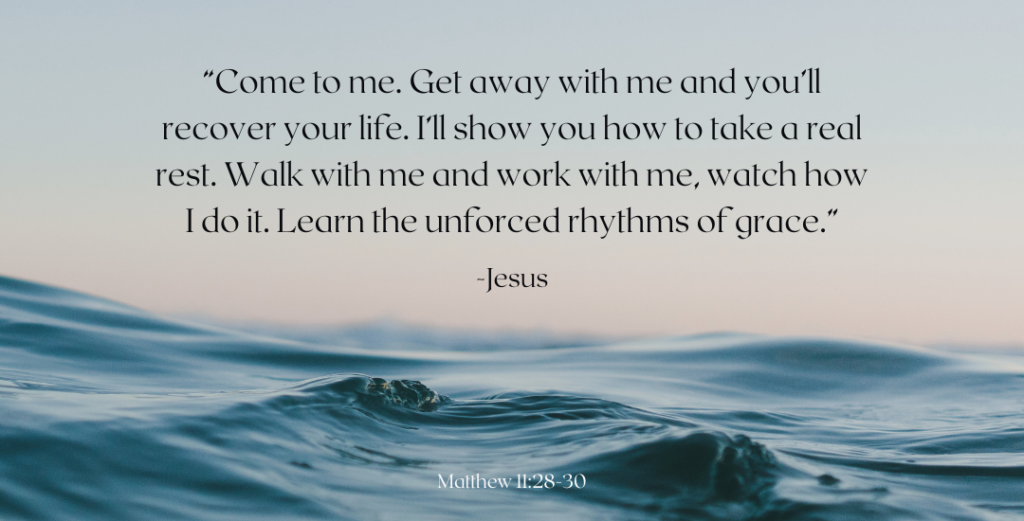 "Have a great day! I love you!"
I smiled and waved to my boys as they walked into school, my eyes straining to soak up one more precious glimpse of them before I began my hour-long commute to work.
As I merged onto the highway, the tears began to fall. It had already been a long week, and it was only Tuesday. Between working two jobs, taking care of the kiddos, trying to keep the house at least functionally clean, and making sure we ate real food at some point, I was running on fumes. And my schedule showed no sign of slowing.
I'll admit that there have been times when I've taken on too much, and I had to humble myself and give my plans over to God and reprioritize according to His will. But this was not one of those seasons.
I had already trimmed the fat from my schedule. I had not taken on anything extra, there wasn't anything I could cancel or move around on the calendar. The responsibilities on my plate were non-negotiable. I had to make it through this week somehow and I was out of steam.
I knew that I needed more rest, but it seemed impossible from my perspective. In my mind, I called out to God, "How am I supposed to rest and feel your peace when I can't slow down?"
I remembered Matthew 11:28-30, where Jesus tenderly says, "Come to me, all you who are weary and burdened, and I will give you rest. Take my yoke upon you and learn from me, for I am gentle and humble in heart, and you will find rest for your souls. For my yoke is easy and my burden is light."
At a glance, nothing about a yoke sounds restful or inviting. After all, a yoke is used to hitch beasts of burden to a plow to work a field. But the yoke Jesus is talking about is submission and obedience to God's will and loving instruction. Jesus is inviting us to take up the light and easy yoke of the Kingdom of God with the promise that we will not find merely rest, but rest for our very souls.
In my state of urgency and overwhelm, I had missed an important part of His invitation: to take up His yoke and to learn from Him.
I think I had always stopped in my mind after the first part because I didn't want to "take on" anything else. It didn't dawn on me that when God said that He would provide for all our needs, He meant rest too.
Jesus invites us to put down our yoke of self-reliance and take up the light and easy yoke of God-reliance. What's more, we don't even have to figure out how! Jesus said we could just learn from Him.
Jesus was intentional about living in a rhythm of rest and conversation with God. He often withdrew from crowds and the business around Him to pray to the Father. Other times, He'd pray right there on the spot.
Jesus lived every single day in the presence and power of His Father in Heaven and submitted to His will over and over again. He demonstrated the same kind of dependence on God that He intends for us to live out in our lives.
And while we can't always withdraw to lonely places to pray, there are a million little moments where we can steal away and talk to God. We can connect with Him while we wait for our kids in the school pickup line. We can sit with Jesus while we rock our babies to sleep, or as we make a meal for a sick family member. We can walk with Him through the aisles of the grocery store, and know that He is with us, or pause in His presence as we get the mail. We can sit in the car in the parking lot and lean on Him for a few minutes while we listen to a worship song. I've even stayed in the bathroom an extra moment or two and prayed. I mean, it's called a restroom for a reason right?
When we pause and connect with God, suddenly, we no longer feel alone, because we become aware that He was right there waiting for us. We get to catch a glimpse of God's eternal perspective, and as we breathe in His peace, He steadies our souls.
I love the way the Message version phrases this same passage of scripture:
"Come to me. Get away with me and you'll recover your life. I'll show you how to take a real rest. Walk with me and work with me—watch how I do it. Learn the unforced rhythms of grace."
Ahhhh….the unforced rhythms of grace. Can you imagine?
That's the light and easy yoke of Kingdom life. It's inviting. It's free. You don't have to strive for it or earn it, you get to just relax into the grace-filled arms of God.
And every moment that you pause and talk to God is an opportunity for His grace to sustain you, fill you up, and encourage you, simply because you are His beloved daughter.
Living in the unforced rhythms of grace means you don't have to be perfect. It means you are not defined by the laundry pile waiting to be folded or the dishes in the sink. Your worth is not determined by the clothes that you wear or what groups you volunteer for or how many activities your kids do.
You are defined by Christ's love for you. He invites you to come to Him, tell Him what's on your mind. To tell Him about your day, and let Him walk it with you.
As we live in the presence and power of our loving Savior, we get to trade the world's rhythms of urgency and self-reliance for the unforced rhythms of God's grace.
By the time I got to work that morning, I had surrendered my will and my plans to God. I told Him that I was weary and needed rest. I told Him that I couldn't do this on my own strength and asked Him to help me and give me rest.
Moment by moment, as I walked through my day, Jesus was there.
I stole away for a minute in the hallway before I went into my first meeting of the day and just took a few deep breaths. As I leaned against the wall, He reminded me that He will always be my safe leaning place.
I bumped into a friend at lunch that I hadn't connected with in a while and shared a laugh for a few minutes before I had to head back into the fray. Just the brief interaction was a blessing from God that lifted my spirits and renewed my energy.
Later that day, I got word that another important meeting had been rescheduled and I was able to leave early, and beat rush-hour traffic home.
And even though the weight of workload was heavy, God gave me peace, strength and rest, at just the right time and in just the right ways.
The next day was longer and more challenging, but as I continued to lean on God and steal moments away with Him, I got to practice a new rhythm of reliance on Him. I was learning that I could trust Him to provide what I needed and that all I needed to do was continue to walk and talk with Him. And when the weekend arrived, I was able to take a real break, knowing that the next week was already in His hands.
My prayer for you today is that you'll steal a moment with God to tell him what you need. Let Him be your safe leaning place as you breathe in His peace and allow Him to steady your soul. His shoulders are broad enough and strong enough to carry you and everything else you are carrying. I pray that you'll trade your heavy yoke for His light and easy one, and begin to learn the unforced rhythms of His beautiful grace.