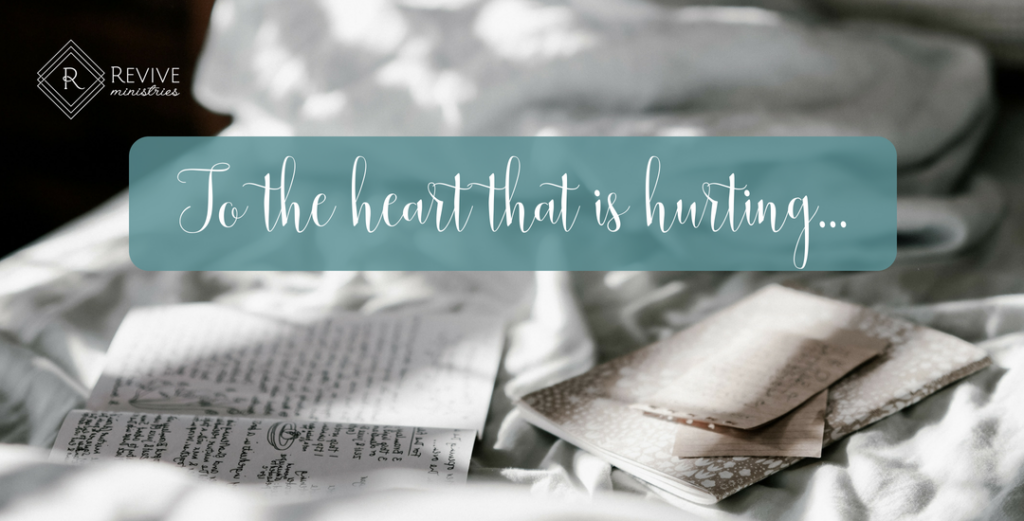 The first year my husband and I were married brought all sorts of growing experiences. We laughed harder than ever, and argued more than I imagined (I actually threw a package of Tums antacids at him!) We also grew closer together through one of the most painful and difficult experiences we've endured to date, the loss of our first child during pregnancy. I firmly believe God redeems pain for purpose by allowing us to walk alongside others in their heartache and grief. In this way God reminds us all that we are not alone, and we are able to point one another back to Him, the source of hope, healing, peace and joy. If you or someone you know is going through a tough time, I pray my story could be an encouragement and beacon of hope.
I am sharing with you because I have walked where you now stand, feeling alone, like you are drowning in a sea of overwhelming grief. I have been acquainted with the kind of hurt that keeps you awake at night and makes your heart pound in your chest. I learned the dull ache of my loss being the last thing I thought about at night, and the first thing I thought about in the morning. I experienced the frustration of having my emotions rule me and feeling powerless to bend them to my will. I remember watching myself from the outside thinking "Summer, you have to pull yourself together!" Then, lamenting in the same breath, "But, I can't!"
I remember friends saying that things would be ok and God was with me in my grief. While I could acknowledge that truth in my mind, my heart still couldn't feel it. I found it difficult to even pray since tragedy had struck our family. To be honest, I didn't really know what to say to God.
One evening I had curled up on my bed after a long cry; out of obedience, I picked up my Bible. My eyes roved over the delicate pages in earnest hope that God would show himself. And there, wrapped in my bathrobe and surrounded by kleenex, my tired eyes fixed upon these words:
"But you, Israel, my servant, Jacob, whom I have chosen, you descendants of Abraham my friend, I took you from the ends of the earth, from its farthest corners I called you. I said, 'You are my servant'; I have chosen you and have not rejected you. So do not fear, for I am with you; do not be dismayed, for I am your God. I will strengthen you and help you; I will uphold you with my righteous right hand." Isaiah 41:8-10 (NIV)
I was especially moved by how the Message summed it up. Something about the phrasing grabbed my attention and soothed my tender heart:
"You're Jacob, my first choice, descendants of my good friend Abraham. I pulled you in from all over the world, called you in from every dark corner of the earth, telling you, 'You're my servant, serving on my side. I've picked you. I haven't dropped you.' Don't panic. I'm with you. There's no need to fear for I'm your God. I'll give you strength. I'll help you. I'll hold you steady, keep a firm grip on you." Isaiah 41:8-10 (MSG)
These are some of my most treasured words from God. They broke through my darkness when I doubted His goodness and had questioned His sovereignty and His power in our world.
"I pulled you in…called you in from every dark corner of the earth…" Boy was my corner dark. Initially, I couldn't see anything beyond my own grief and pain. I wasn't being intentionally selfish, everything else just seemed so small compared to the magnitude of my grief. God reached down and scooped me up like a loving dad carrying his daughter to tuck her safely into bed. He reminded me who I am. "You're my servant, serving on my side. I've picked you." Even when my heart pushed Him away, I was not his enemy.
"I haven't dropped you. Don't panic. I'm with you." I needed this reassurance most. I couldn't see how God was working in my situation. My world felt like it had been turned upside down and I was hanging precariously on the edge of it. My ears strained to hear His voice. I longed for Him to anchor me in my chaos.
"There's no need to fear for I'm your God. I'll give you strength. I'll help you. I'll hold you steady, keep a firm grip on you." The Lord bade me to stop running, be still and let the wave of grief wash over me. He would not leave me to tumble about in the wake. He would keep a firm grip on me. As I continued to read these promises, they began to stir in my heart with little flutters of hope. As each wave of grief washed over me, I emerged, sputtering, but standing, His hand tightly on mine. With each passing day, I saw God's hand holding on to me. I began to accept the loss I had suffered and started to feel peace. God cared for me through family and friends that brought me meals, listened to me and encouraged me. I could whisper faintly in faith that God was still God, and He was still good. That whisper grew as my heart healed and I can now boldly proclaim in full assurance that God is present in your circumstances and will see you through.
My prayer is that if you are in the middle of a storm right now, that you will not despair, but hold on to a glimpse of hope. You are not alone. This season does not stretch on indefinitely. Do not give up. Even in your dark corner, God is there. You are His and He loves you more than you can see. And when you get to the other side of this, you will know victory. You will know strength. You will know peace. You will see God redeem your pain for purpose as you walk alongside someone else in their storm. And you look back and see God's hand at work, more than you ever thought you could.