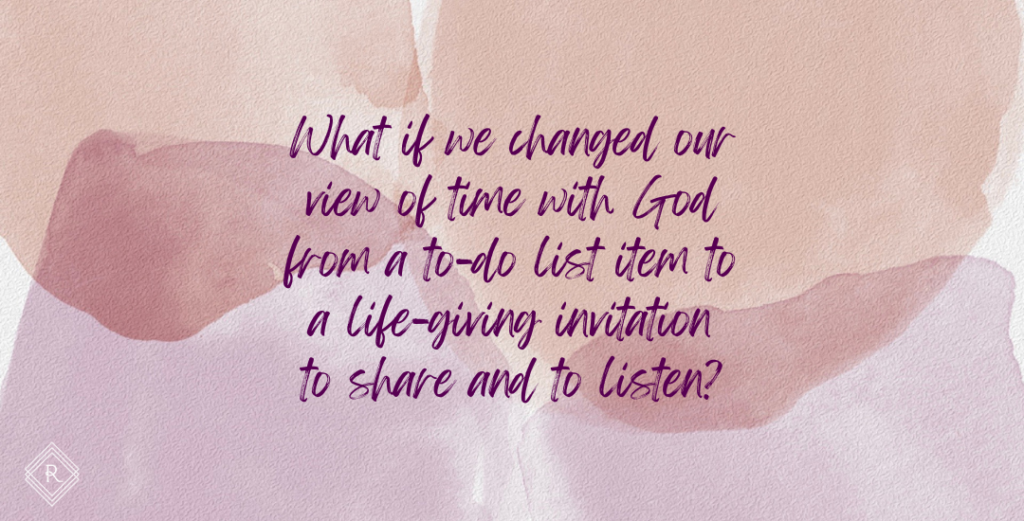 He was running for his life. A few short days before he had just experienced the most incredible God moment. He had watched God bring fire down on the drenched wood of the altar, causing it to burst into flames (1 Kings 18:36-38). In that moment, God revealed that he was a powerful God, ruler over everything including the false god Baal. He had rejoiced when the disobedient people of Israel fell to their knees and proclaimed that God was the one true God. Now Elijah, God's ambassador, was a fugitive on the run now that Jezebel, the queen of Israel, had ordered him to be killed. Those feelings of triumph and victory were quickly replaced with fear and loneliness. After a long day of running, Elijah fell down exhausted and hopeless under a tree and slept. What should he do now?
Have you ever felt like Elijah? In the outskirts of your mind, there are faint memories of times where you have experienced incredible God moments, but now your life is busy. The kids need to be transported to events. Deadlines at your job are looming. Don't forget the decorations you said you would make for the church ladies' event. Your life is defined by go, go, go. After a while, the constant running on the hamster wheel can take its toll and you start to feel a bit like Elijah. Those memories of God working in your life are replaced with feelings of exhaustion, defeat and hopelessness.
God saw Elijah's state and sent help. An angel appeared to Elijah with food and drink and said, "Elijah eat." Elijah, sat up, ate and went back to sleep. Again, the angel woke Elijah up and told him to eat or the next phase of his journey was going to be too much for him (1 Kings 19:7). After Elijah ate his second God provided meal, he journeyed to Mt Horeb, the mountain of God. After a grueling forty days and forty nights, Elijah finally arrived. He was setting up his living quarters in a cave when the word of the Lord came to him with a question. "Elijah, what are you doing here?"
While God probably knew why Elijah was there, He also knew that Elijah needed to share and get some things off his chest. Elijah gladly took the invitation and boldly shared how he was feeling. He shared how he had worked hard as a prophet for God, but despite his best efforts, the King of Israel was not listening. He shared how he had done everything God had asked of him, and now he was running for his life. He also shared how he felt very alone in his faith in God (1 Kings 19:9-10).
After God had given Elijah the opportunity to share his sadness, anger and frustration, God invited Elijah out of the cave to the top of the mountain to be with Him. The Lord passed by in strong winds, earthquakes, and fire, but it was not in these loud and very visible expressions of power that the voice of the Lord came. It came in a soft and gentle whisper. Once again, God invited Elijah to share his burdens, but instead of just listening, God talks back. In the response, God confirms He had heard Elijah's fears and loneliness. He explains the plan of action that will take care of the problem of those that are seeking to kill him. He also reveals to Elijah that he wasn't alone in his devotion to God, but that there were seven thousand like him, who had never bowed a knee to Baal (1 Kings 19:11-18).
In this story we see the realities of life. Even when we are doing the will of God, life still seems to try to drag us down. It seems bent on trying to crush us with busyness and negativity, so that we forget the ways God shows up for us. But Elijah's encounter with God shows us that even when we struggle to keep our heads above water amidst the crashing waves of life, God still comes to us to give us comfort and strength. He invites us to come to him for provision, knowing that otherwise the journey will be too much for us on our own. He invites us to share our burdens and frustrations. And he invites us to listen to His voice as He comforts us and shows us the next steps forward.
We are only able to hear His soft, gentle voice when we spend time with Him. Often we look at quiet times with God as just another to-do item we have to fit into an already full schedule. What if we changed our view of time with God from a to-do list item to a life-giving invitation to share and to listen?
I know you have heard a million times how important quiet moments with God are, and you will hear it a million times more as God continually invites you out of the chaos of life to the quiet moments on the proverbial mountain of the Lord. The journey to those quiet times can seem difficult. Sometimes it seems downright impossible to make time for it. God provided what was needed for Elijah to make it to the mountain of God, and He provided Elijah what he needed to journey back into the daily grind of life.
The journey to the Lord is always worth it, no matter the struggle to get there because something miraculous happens inside us as we spend quiet moments sharing with God. The Bible is full of examples of people being transformed by being in the presence of God. Moses turned from an excuse maker, hesitant to do anything with God, to someone who didn't want to go anywhere without him. The woman at the well transformed from a woman who was trying to avoid the judging eyes of her neighbors to someone who boldly shared Jesus with them. And in the story of Elijah, we see a man transformed from a hopeless runaway into someone who boldly went back into the world to change it. These three people were radically changed from the time they spent in conversation with God.
While Elijah's journey to the mountain of God was a distance of many miles, your journey doesn't have to be. Your journey to God can be to your couch in the early morning before the busyness of the day begins. It could be the journey to your car at lunch time to spend a few moments in prayer and meditation. Just like God was waiting for Elijah on the mountain of the Lord, inviting Elijah into relationship, so God is waiting for you to choose to journey to Him. Inviting you into a rich relationship. He wants to spend time with you–to hear what's on your heart and to provide all you need.
Will you go to Him?