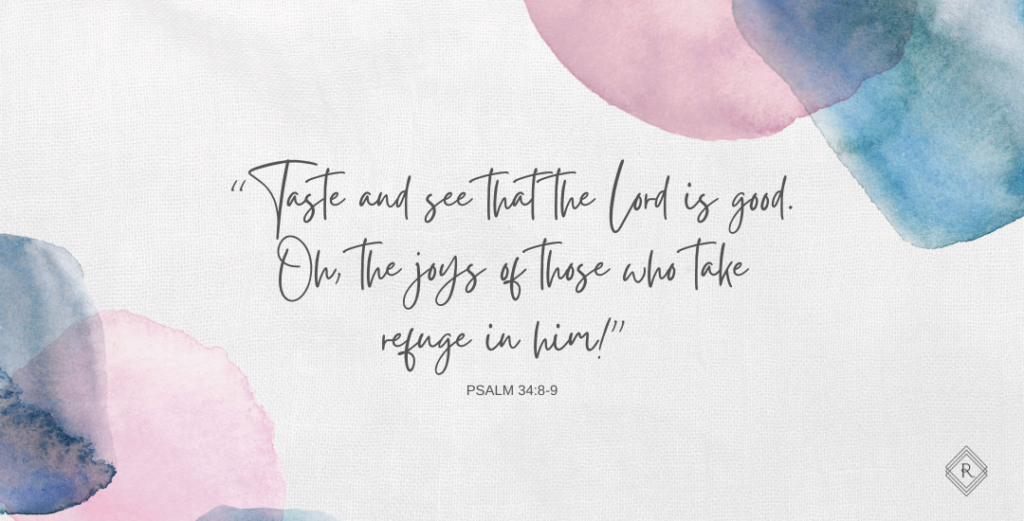 Part of living the "Made For More" life that we have been talking about so much lately, is learning how to trust God no matter what, with everything we have and everything we are.
But I'll be the first to admit that it isn't always an easy thing to do. Especially when we find ourselves facing big, difficult situations that we just can't see a way through. When we are staring down an impossible situation, one where we are unsure of the outcome or where the money will come from or when the healing will come, we just want to know how it will all work out. We can feel tempted to let despair overtake us. We long for a peace of knowing that it will all be okay.
In these times, the only solution is to turn to God with our situation and our fears. But, for most of us this can be difficult because we are in essence surrendering everything into God's hands–including our control over the situation. We like to think we are in control, even if we know deep down that we are not. So, in order to surrender and trust, we must believe that God has our best interest in mind and that His love for us runs deep–that He delights to give us all that He has and all that He is. We must first believe that He is a good God and wants good for us.
Psalm 34:8-9 says, "Taste and see that the Lord is good. Oh, the joys of those who take refuge in him! Fear the Lord, you his godly people, for those who fear him will have all they need."
Sometimes the best way to see this truth in our lives is to look back on God's faithfulness to us in the past. When we are in the middle of our current circumstances, it can be easy to forget how God has been there for us or answered our prayers in the past.
Leaning on our remembrance of God's faithfulness to us, helps us to trust Him again when the future is scary and unknown. We can look back on a history of His loving faithfulness and kindness to us–the ways He has gone above and beyond all we asked or imagined. And in times when we can't even see His hand in our lives, we can look to the ways He has shown up for His people throughout history.
Just a glimpse through the Bible we see even our Bible heroes didn't always have it so easy. History is full of adversity and triumph. Suffering and blessing. Even the people of God aren't immune from facing hardships–it's become a normal part of living in this broken world. Every person we read about in the Bible faced difficult situations just like we do, and they all had to decide if God was on their side and turn to Him for the outcome of their situation.
For example, David was a scrawny teen who was the youngest of all his brothers, and yet He trusted God to help him defeat the giant Philistine.
Esther was faced with the opportunity to save her people from destruction. Knowing that coming before the King could cost her her life, she sought the Lord and then confidently said, "I will go to the king on behalf of my people, even though it is against the law. And if I perish, I perish."
Ruth was a woman who had suffered great loss and found herself without a home or security. Yet she chose to trust her future to her mother-in-law, Naomi, and Naomi's God, and went to a foreign land, believing that God would provide.
Mary, a young girl who probably wasn't much over the age of 14, was just told that despite being a virgin, she would now conceive the Son of God. Knowing that this situation would bring judgment, accusations, shame, and rejection, she could have easily said, "Yeah, this sounds too much for me–I'm out." But instead, confidently said, "I am the Lord's servant. May it be to me as you have said."
Everyone of them faced an uncertain outcome, but they knew enough about God's character to know that choosing to go with God was better than anything they could do on their own. They might have been young, poor, desperate or scared, but we are still reading their stories today because they are a living example of trusting in God no matter what they faced.
Their faith and trust in the Lord is what gave them the strength to face their situation, boldness and courage to know God would provide. They entrusted and surrendered all they were and all they had to their God who could be trusted. They knew that He had everything they needed to face whatever circumstance came their way. He WAS all they needed. They knew this because He was a God that was active in their life and they could recount His past faithfulness and goodness.
And He is a God who is active in our lives too. His faithfulness and goodness have followed us all of our lives as well. But at times, we still find ourselves wondering if God is even there, and if good really can come out of what we are going through. When doubts begin to rise and our hearts start to race with questions, we must remember who He is and what is true: God is FOR us and He LOVES us.
When we are having trouble seeing God working in our situation, we must first ask ourselves, "Have I invited God into my situation? Or have I been engineering my own outcomes, relying on my own strength?" As humans, our first instinct is to try and fix our desperate situation ourselves, but we must remember that God doesn't need our help, He needs our willingness and surrender, our faith and trust.
When we let go and lay it all in God's hands, willing to say "thy will be done", that is when we will find the peace and joy we are longing for, because the outcome is now in God's hands. Laying it all in God's hands sets us free from our fear and anxiety over our situation. When we realize that God can see the bigger picture and He knows what we do not, that He is infinitely wiser and wants our best, we can confidently know that His way is the best way.
Jeremiah 29:11 (NLT) says, "For I know the plans I have for you," says the Lord. "They are plans for good and not for disaster, to give you a future and a hope. In those days when you pray, I will listen. If you look for me wholeheartedly, you will find me."
Because of Jesus and the future we have in Him, we can face the difficult things in this life with a faith and confidence that just doesn't make sense to the world. Jesus came to bring us an unshakable kingdom, one that is not moved by the things of this world. He came so that our souls would find a peace and joy that is also unshakable. One that nothing in the world can touch or take away.
Jesus says in John 16:33, "I have told you these things, so that in me you may have peace. In this world you will have trouble. But take heart! I have overcome the world."
When we choose to surrender to God's will and God's ways, entrusting Him with the outcome, all the provisions of His kingdom are now at our disposal simply because we belong to Him. He guards our hearts and minds and plans ahead for us. This is our reality no matter what new threat appears in our news feed. No matter what happens in this world, this reality is still true. We have nothing to fear, for we have the great King on our side. He loves to provide all we need as we seek to live in His unshakable Kingdom.
When we choose to lean into this strong and unshakable Kingdom of God, trusting Him with our circumstances, we find that our hope is strengthened and we begin to see God at work in our situation. And when we get to the other side, just like our Bible heroes, we have a story to tell. Just as our faith is bolstered by seeing their faith and trust in the Lord, others will see your story and how you chose to have faith and trust, and be encouraged to do the same. This is all part of what it means to be made for more.
When we believe that God is at work even in the difficult situation we are facing, we can begin to see how He will bring glory out of it. It is never easy, but it does get easier when we can keep looking back to God's character and past faithfulness.
You will be able to proclaim God's faithfulness, because you will have tasted and seen that the Lord is good. And that proclamation becomes an invitation to others.
Your witness and trust that God is working in even the worst of situations, points a watching world to the One who can bring them hope. Don't underestimate the impact that your story of faith in times of trial can have on those around you. God will bring good out of the worst situations, and our story can point others to a God that is faithful and loves us deeply. Our job is simply to trust Him.
You only need to take a few steps with a willing heart and God will run the rest of the way. He just needs your mustard seed of faith, your few loaves and fishes, and He will do great things.
Maybe you are in a place where you are so tired of holding it all together. Maybe you are in a circumstance that is leaving you feeling hopeless. We all face trials of various forms each and every day. Please know God is right there with you, waiting for you to turn to Him with all that is troubling you and all that is in your heart. He is a good, good father and nothing is too big or impossible for God.
Father God, you are so good to us. There are times when we cannot not see your goodness. Help us turn to you. Lord increase our faith. Help us remember your faithfulness to us in the past and that you are faithful still, even when we are not. You never leave us and would never forsake us. Help us to trust you with our whole life. May we seek your will and your glory. In Jesus' Name we pray, Amen.