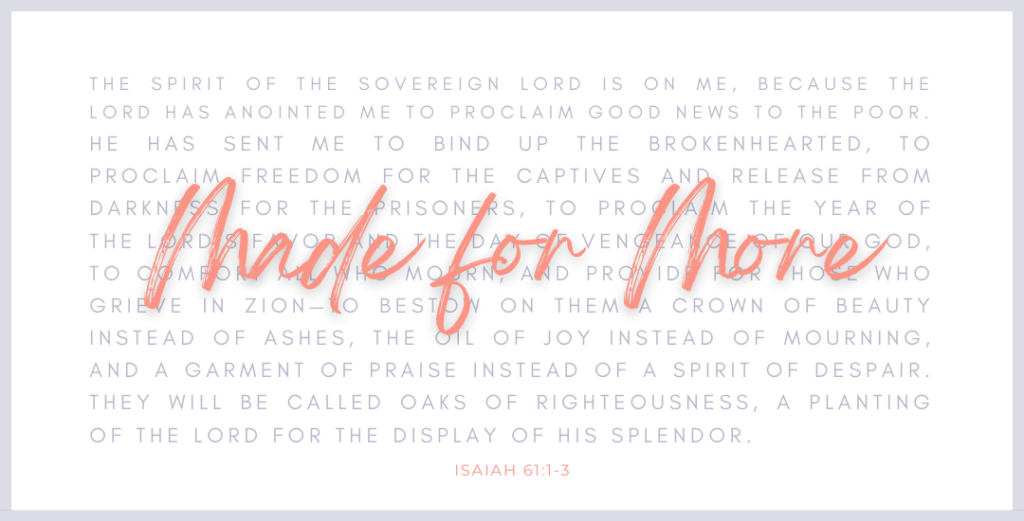 Not too long ago, in a land not so far away, I worked as an on-air radio personality, reporting the local news, weather & traffic every morning on several radio stations. Each night, before I went to bed, I would scan the headlines, and in the morning, I'd check again to catch any of the late-breaking stuff I may have missed while I was sleeping. Sadly, the headlines rarely announced any good news. As the pandemic wore on, and riots rocked many cities, including my own, the majority of the stories I'd find were full of tragedy, crime, or conflict. And after a long day, running in a million directions on too little sleep with no end in sight, my heart and soul would just ache for good news.
Have you experienced that feeling? That longing for someone to tell you something good? To tell you that there's more to this life than the constant struggle and striving, that all the hard stuff you've been through wasn't a waste. To tell you that you were made for more than what this world has to offer and you don't have to wait until you're on the other side of heaven to live life abundantly.
If you're feeling weary and depleted from the day-to-day fight, my friend, I have good news for you: You're not alone, and you are made for more.
In fact, it's the whole reason Jesus came. He saw us hurting in our mess and broke through the darkness to rescue us and give us something better. The moment Jesus came, everything was changed forever. That was the beginning of Kingdom life unfolding.
We get a sneak peek at the Kingdom of God in Isaiah 61:1-3. It's no coincidence that Jesus directly quotes this passage in the book of Luke when He reveals His identity as the Son of God and the fulfillment of this very prophecy.
"The Spirit of the Sovereign Lord is on me, because the Lord has anointed me to proclaim good news to the poor. He has sent me to bind up the brokenhearted, to proclaim freedom for the captives and release from darkness for the prisoners, to proclaim the year of the Lord's favor and the day of vengeance of our God, to comfort all who mourn, and provide for those who grieve in Zion—to bestow on them a crown of beauty instead of ashes, the oil of joy instead of mourning, and a garment of praise instead of a spirit of despair. They will be called oaks of righteousness, a planting of the Lord for the display of his splendor."
I love this entire verse. Talk about the ultimate mic drop moment! I wish I could unpack all of its amazing goodness right here, but we would need more time. So over the next few weeks, we'll be digging into more it as we lead up to the Revive Conference on February 25th! (You are totally invited, by the way, and can find out all about it here)
Right now I want to focus on the very first little bit. The Spirit of the Sovereign Lord was on Jesus to bring good news. He himself was and is the ultimate good news.
When Jesus walked this earth, He literally did all of the things that we see in Isaiah 61:1-3. And He does them for us still today. He gives good news to the poor and provides for them. When we are at the end of ourselves, He always provides exactly what we need right when we need it. He carries us through the lean times and blesses us in ways we can't even imagine.
He comforts the brokenhearted, holding us when we are weak, and crying with us when we weep.
Through His death, burial and resurrection, Jesus releases us from the chokehold of sin and redeems pain and our story, for purpose. Through Him, we have a fresh start as a new creation.
He gives hope and justice to those who earnestly ask for it, and one day will come again to set things right once and for all.
He takes the ashes of our lives, the messes, and the brokenness and gives us a crown of beauty instead. He takes our despair and mourning, holds and heals our hearts, giving us instead a spirit of praise and joy that transcends our circumstances.
All we have to do is lean in. Rest in the arms of our Savior and give Him the hurt and broken pieces of our hearts and lives. He does all the rest. You don't have to earn it and you don't have to compete for it. You don't have to run yourself ragged doing all the things. God's love is not something you can lose, and you don't have to worry about being perfect. There's nothing that you can do to mess up His plans. God's Kingdom does not depend on our ability, strength, perfection, or talent. You just have to say, "Ok, Lord, here I am." It's the safest and sweetest surrender you'll ever know.
God could have just stopped there. He could have just rescued and restored us, dusted us off, and set us back on the road. Instead, He invites us to join Him, to be a part of what He is doing to bring about the restoration of His creation. Through the Holy Spirit, we are empowered and mobilized to live out the same kind of Kingdom life we have received, with everyone around us. We get to be bearers of the ultimate Good News about Jesus and invite others to be a part of God's story unfolding.
That doesn't mean the rains and winds won't blow, or that the hard times won't come. We will still see heartache and pain in the world because God isn't finished yet. The Kingdom is unfolding now, but the work is also not complete yet. So we will have our share of trouble, but our identity and security rest in the One who has already overcome the world. God gives us strength, hope, and purpose, and sets us apart to be a light radiating out into the darkness of our world. He commissions us to continue the work that He started through Jesus and to participate through His Spirit in His Kingdom come.
And even when we feel the full force of the storm, and the sting of the rain on our faces, because of Jesus we can stand firm and steadfast. We can be like a mighty oak tree with our roots planted firmly in the bedrock of faith, as a display of God's splendor. And we get to be a safe place of refuge for others searching for solid ground and point them directly to the source of true strength, hope, and peace.
We get to work alongside our Heavenly Father binding up the brokenhearted, and reminding them that God is near.
We can tell them about freedom in Christ, that they no longer have to be stuck in sin, ruled by circumstances, anxiety or stress. They can be free from the lies that tie them up in knots and lean into the truth of who God says we are and the divine purpose He invites us all to.
We can remind them that God sees their suffering and that there is a day coming when God will set things right. A day when His justice will prevail, and their cause will shine like the sun. (Psalm 37:4-6)
We can point to God at work and help them see beauty rising from the ashes.
We can comfort them and help them find their joy.
One of the beautiful things about God's Kingdom is that through the Holy Spirit, we can be both comforted, and offer comfort to others. We can find significance, and divine purpose and know our worth in Christ. And we can help others embrace their significance, purpose, and value as well. There will be seasons when you may not feel like a mighty oak. That's ok. There will also be seasons where others lean on you because when they look at you, they see Jesus at work.
So sweet friend, if you find yourself feeling lost in the darkness, consumed by the bad news of the world, or weary from the stress and strain of life's hard realities, hold on. God's not done yet. He has more for you. You are made for more. You are made for Kingdom Life.