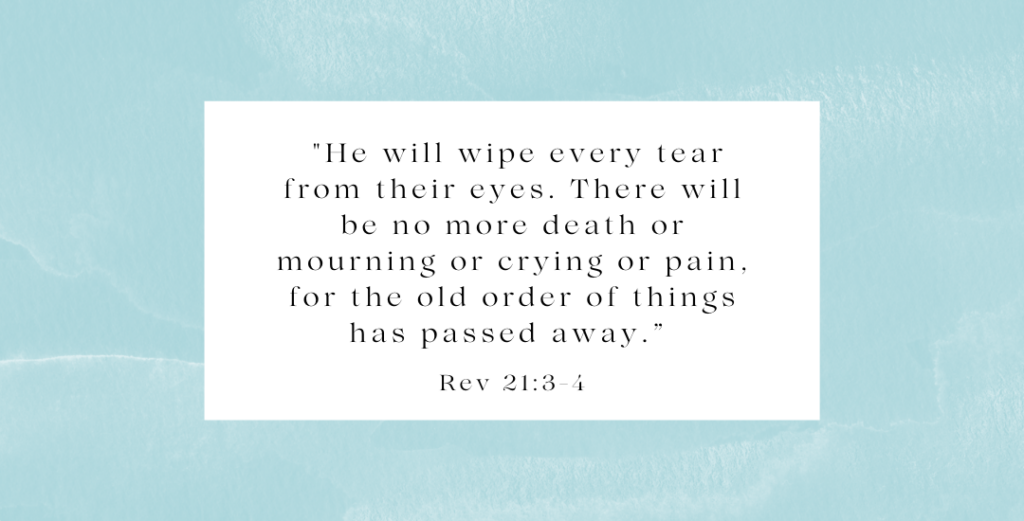 The holiday season is coming. The local event schedule is filling up with holiday bazaars, concerts, and sales. The annual debate of whether listening to Christmas music before Thanksgiving should be allowed is heating up on social media. The stores are filling up with Thanksgiving goodies and Christmas decorations. For many, it is a joyous time of year as they look forward to holiday traditions and time with family.
However, this time of year is not a joyous time for everyone. Unfortunately, many have lost a loved one around this time of year. For these people, it can be a time of sadness as they have to endure another milestone without the ones they love. If that is you, know I see you. I know it is hard.
I want to encourage you that you are not alone in your sadness. You have access to a God who wants to walk with you during this difficult season. Our God doesn't stay up on his throne, indifferent to the pain of death and sadness. Our God doesn't watch us suffer from heaven without a care about what we are feeling. No, we believe in a God who knows what it is like to lose a loved one because he lost his Son to the cross. We believe in a God who has promised to comfort us in our times of grief.
Jesus tells us, "I have told you these things, so that in me you may have peace. In this world you will have trouble. But take heart! I have overcome the world." (John 16:33) He never promised life will be easy, but he does promise we don't have to do it alone because we have God living within us through His Holy Spirit.
And as we slog our way through life, carrying the weight of having to lose the ones we love and other difficult trials, God gives us this glorious hope:
"And I heard a loud voice from the throne saying, "Look! God's dwelling place is now among the people, and he will dwell with them. They will be his people, and God himself will be with them and be their God. 'He will wipe every tear from their eyes. There will be no more death or mourning or crying or pain, for the old order of things has passed away."

Revelation 21:3-4
During this holiday season, if you are looking forward to all the food, festivities, and time with family, I rejoice with you. I am thankful you get to enjoy all the joy the holidays were meant to bring. If you look at this holiday season with a sense of loss and grief, I pray you can find hope and comfort in the fact that our sympathetic and compassionate God walks with you in those hard emotions. May you also find hope and comfort in the promise that one day, God will wipe all the tears from your eyes for there will no longer be a reason to mourn.