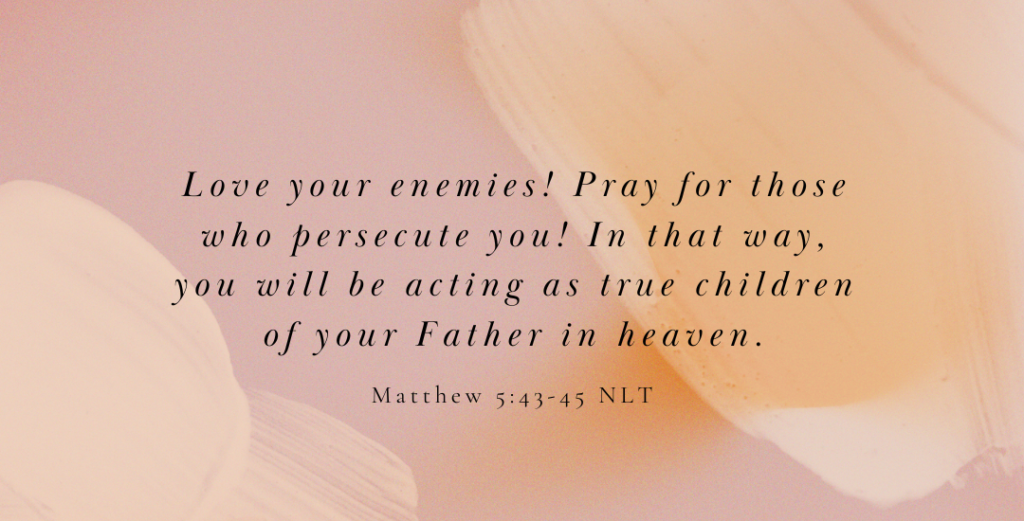 "She said WHAT about me?!"
I could feel my cheeks flush as a shockwave of anger spread across my face, and through my chest, before it fell like a rock in my stomach. I couldn't believe what I was hearing. How could someone who had known me for so long, believe lies about me?
I struggled to process the harsh reality in front of me: an old friend (I'll call her Nichole) was spreading lies about me in an effort to save face. And another dear friend (I'll call her Marie) had believed her without a second thought.
I knew Nichole well and had learned to be a little cautious in our friendship. She had a little bit of a reputation for being less than honest.
But I looked up to Marie. I sought her approval and wanted to have a good relationship with her. When I tried to reach out to her, I was given a cold shoulder in return. There would be no chance for me to set the record straight, no hope for justice, and certainly no apology.
As someone who prides herself on being friendly, I don't enjoy having an enemy. I am a peacemaker at heart and I want everyone to get along, but I'm also a bit scrappy. I'm not one to go down without a fight, so not having a chance to defend myself and put certain people in their places was a special kind of torture.
It kept me up at night and chipped away at my self-confidence. I would lie awake, replaying conversations in my mind looking for ways that I could clear the air and change how Marie saw me. I cried big tears of frustration and grief. I had lost not just one friend, but two, and there was nothing I could do about it. Or was there?
One night around 2 am, after a particularly good fake conversation in my mind where I really stuck it to them, I began to pray for justice. My heart was filled with righteous indignation and I was certain that the Lord had my back on this one.
Then the strangest thing began to happen. While I started praying for myself, I ended up praying not just for me, and how I was feeling, but also for Nichole and Marie. I prayed for the places where they were broken to be healed, so they wouldn't hurt others the way that they had hurt me. I prayed for their eyes to be opened and hearts to be softened to the love of Christ and for the Holy Spirit to work within them. I prayed that God would help me to forgive them, and to be set free from the bitterness that had taken root. I asked God to bring about the best possible outcomes for all of us so that He could be glorified.
Friend, it was not by my own strength that I prayed these prayers. It was God at work in my heart through prayer that formed the words and began to change my entire perspective.
In Matthew 5:43-48 (NLT) Jesus tells us, "You have heard the law that says, 'Love your neighbor' and hate your enemy. But I say, love your enemies! Pray for those who persecute you! In that way, you will be acting as true children of your Father in heaven.
While my conflict with Nichole and Marie happened before social media was really a thing, it's not unheard of in situations like this to put someone on blast in a one-sided rant on Facebook. We've all seen the posts, maybe we've even posted some of them. If it had been an option at the time, I would have loved a chance to get my side "out there" and maybe get in a jab or two of my own.
But Jesus says if we are going to behave like true children of God, we should love our enemies and pray for them. I know–crazy right? It's totally counterintuitive.
Left to our own devices, our perspective remains narrow. We see only through the lens of our hurt and frustration. Before long, bitterness begins to build up, and brick by brick we become imprisoned behind a wall of unforgiveness and pain.
But when we bring our enemies before Jesus in prayer, suddenly things don't seem so big and overwhelming compared to the magnitude and sovereignty of God. The simple act of prayer helps us to transcend the situation before us, and invites God to go to work in our hearts.
He can smooth out the rough edges where we need to repent, and fortify our souls where we need encouragement and love. When we pray, God meets us with compassion and reminds us that we are loved. What a gift when we feel wounded and rejected by others! Through time with God in prayer, He begins to mend all of the broken places in our hearts.
But something else miraculous happens through prayer. As we are reminded of our own belovedness, we are also reminded of the belovedness of others. God never made a person He didn't love, including our enemies.
When we pray, we begin to see them the way God sees them, and our hearts are softened. It's like weed spray for the heart, killing the roots of bitterness before they can get established and helping pave the way for true freedom and forgiveness.
We see in the Lord's Prayer in Matthew 6, that forgiving others is something that the Lord requires of us. He knows it is not easy work, especially when the person we are trying to forgive may not seem sorry. But God never asks us to do anything alone. When we pray to Him, He helps us and heals us so that in due time, we can sincerely forgive and move forward.
It's ok if you don't know where to start. Don't worry if your words aren't pretty or if your anger bubbles over. God does not require you to check your emotions at the door. He wants you to bring all of your heart to Him. The Holy Spirit will help you find the words and communicate your heart to God. God promises to work all things out for good for those who love Him. He won't waste a thing. He will use it all to bring about purpose for your pain and beauty for your ashes. (Romans 8:26-28)
Part of God working all things for good is so that others will know that He is God. He's doing more than just settling a disagreement, or bringing about justice, He is working through our situations so that everyone can know Him.
In the book of Exodus, there are a couple of occasions where Moses prays for his enemy, the Pharoah of Egypt, who has enslaved the Israelites. In that part of the story, we get a little glimpse of why and how God is working. He is working through the stubborn heart of Pharoah so that all of Israel will know that Yahweh is God. God is also working through Moses' prayer for Pharoah so that Pharoah will know that Yahweh is God. (Exodus 8:8-10, 10:1-2)
When we humble ourselves and pray for our enemies, God reminds us and shows everyone else, that He is God. He can reach into the hearts of people where our best arguments and defenses would fall flat. God can bestow wisdom and grace, change minds and soften hearts, including our own so that all will know that He is God.
About a year after the fallout with Marie and Nichole, after praying and working toward forgiveness, I had finally let go of the whole situation. By the grace and strength of God, I rested in the comfort and security that God knew the truth and that was enough. I had reached a place where the opinion of these two friends no longer defined me. My worth was not in what they thought or said, but in who God says I am.
One day I found out that another friend had bumped into Marie and set the record straight on my behalf. Marie felt terrible about the whole thing and had no idea that all this time she had been believing a lie.
I saw her not too long after that and she came up to me and hugged me. She praised me for the way that I handled the whole situation.
Up to this point, there wouldn't have been anything I could have said to change Marie's mind. Only God could have accomplished that. And only God could have kept my heart soft enough to receive her kindness and be willing to reconcile. At that moment, I was reminded of who God is, and other people, including Marie, saw God at work, healing and redeeming a friendship that had been lost.
I know we don't always get the ending that is tied up neatly with a bow. Marie never really did apologize-not in so many words. But God had already restored my heart and grown my faith in ways that I never could have anticipated. And it was easier to give Marie grace because of the abundance of grace that God had been giving me all along.
So my friend, pray for your enemies. Not sure if you have any? Pray anyway– someone's name may come to mind that you've stored neatly in the back of your mind.
Bring your heart to God, bring any conflict, hurt, betrayal or grief. Lay it at His feet and watch Him take a heart full of frustration, anger, and bitterness, and transform it into one overflowing with peace, freedom, and grace.