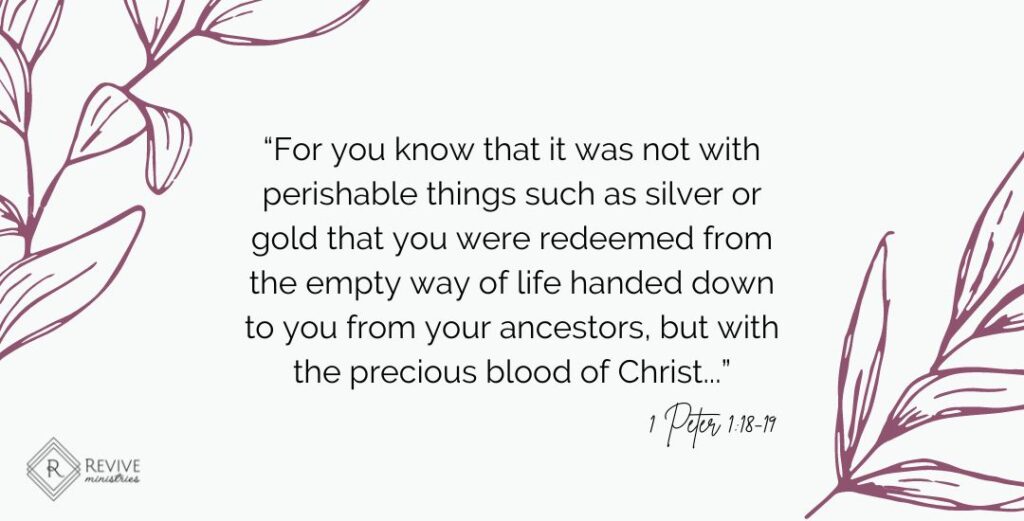 With Easter just around the corner, I've been thinking a lot about what it must have been like for those closest to Jesus. Particularly, for Peter, one of his closest disciples and friends. In the days leading up to the crucifixion, we see Peter at the Last Supper proclaiming his undying devotion to Jesus.
"Peter declared, 'Even if everyone else deserts you, I will never desert you.'
Jesus replied, 'I tell you the truth, Peter—this very night, before the rooster crows, you will deny three times that you even know me.'
'No!' Peter insisted. 'Even if I have to die with you, I will never deny you!' And all the other disciples vowed the same.
But when the time came for Jesus to be arrested and taken away to be crucified, every one of the disciples deserted him and fled. Later that evening, Peter came to the courtyard. He stood nearby the place where Jesus was taken, maybe in hope of a miracle, maybe trying to figure out how to fix what had just happened. We don't know, but l can imagine he was distraught and fearful. I'm sure this wasn't how he thought it was supposed to end.
As the night went on, different people in the courtyard recognized Peter as one of Jesus' disciples, and each time he denied knowing Jesus. When he had denied Jesus the third time, Peter heard the rooster crow and remembered what Jesus had predicted. He went away, weeping bitterly.
Have you ever done something you regret? Even if you didn't plan on messing up, it happened anyway and you were left feeling guilty and remorseful. Even when we try our best, at times we still make mistakes.
I'm sure Peter left that night wondering how he even got to that point, feeling remorseful for turning his back on his Lord.
When we think of Peter, we also often think of his mistake. I wonder if He was haunted by it too, and saw himself as "the one who denied Jesus". Often we also are tempted to let our past mistakes become part of our identity. Shame creeps in and tries to redefine how we see ourselves and makes us feel unworthy of forgiveness and love.
But Peter also experienced Jesus' resurrection and it changed his life forever. Through God's forgiveness and redemption, Peter went on to be the rock the church stood upon. He went on to give a Holy Spirit inspired sermon to the very same people who had just crucified Jesus and 3000 people were saved that day!
Jesus did not let Peter's mistake be the final thing that defined him. Because of Jesus, we don't have to be defined by our past sins and mistakes either. Despite our past, God can still work through our gifts and talents and redeem our mistakes for purpose. He will transform each of us into the people we were always meant to be.
This Easter we want to remind you that the most important part of your identity is that you are REDEEMED and LOVED!
For you know that it was not with perishable things such as silver or gold that you were redeemed from the empty way of life handed down to you from your ancestors, but with the precious blood of Christ, a lamb without blemish or defect."

1 Peter 1:18-19 NIV
This Scripture so beautifully captures not only what we were redeemed from, but shows the weight of the cost. In the New Testament, the word redemption is used to refer both to deliverance from sin and to freedom from captivity.
When Adam and Eve chose disobedience and brought sin into the world, humanity became held captive by sin and death. This way of life only brought grief, evil, destruction and separation from God. Sin owned us–we were helpless against its power. This life of sin kept us from living the life we were intended to have–a life of joy and peace and flourishing.
But God in His deep abiding love for us, began making a way for us to be brought back to full relationship with Him–restored to who He created us to be. He rescued us from darkness and a life of imprisonment to sin, and set us free so sin no longer had control over us. Jesus redeemed our life by restoring ownership to God.
It is only through Jesus giving up His perfect life in exchange for ours, that we are redeemed. We were not redeemed by things that don't last, but a once and for all act of mercy and grace. Our redemption cannot be undone–it is eternal.
"Therefore, since we have been made right in God's sight by faith, we have peace with God because of what Jesus Christ our Lord has done for us. Because of our faith, Christ has brought us into this place of undeserved privilege where we now stand, and we confidently and joyfully look forward to sharing God's glory."

Romans 5:1-2 NLT
This redemption and new life that God has given us comes from the same power that raised Jesus from the dead. Praise be to God! Not only are we redeemed but we are also chosen by God to be His sons and daughters. He has set us free in order that we may live in the world that He intended. As His redeemed, beloved daughters, we can boldly run into His arms without guilt, shame or hindrance. We are now His and we now belong to the Kingdom of God.
As we prepare for Easter, let's take some time to thank Jesus for rescuing us and redeeming us. Rejoice in knowing that Jesus has paid the price for our freedom and sees us in the light of His love, not by the shade of our mistakes. Because of Jesus, we can walk confidently and joyfully in God's love and grace this Easter!