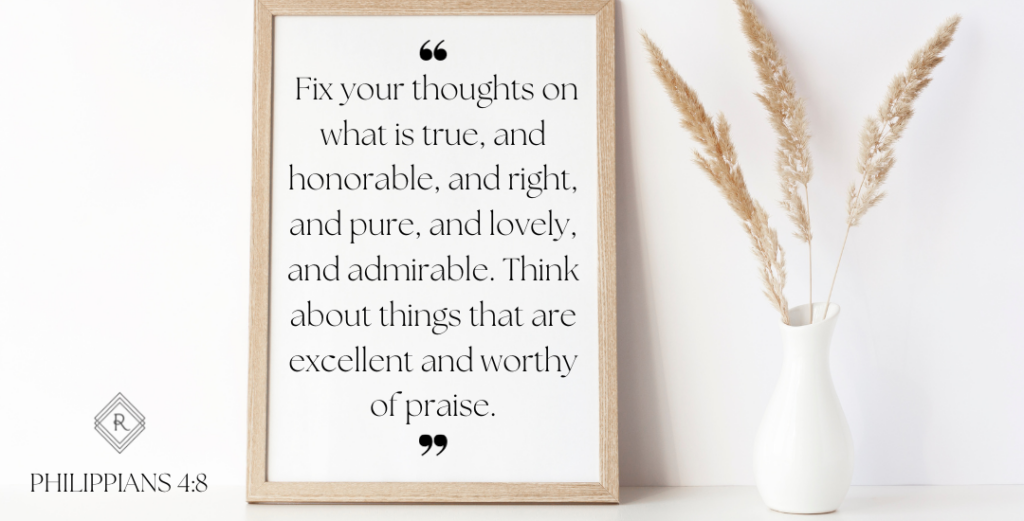 My mom loves to tell stories about my brother and I growing up. One of her favorites, was from when I was about 3 or 4 years old. We were living in Washington D.C. back in the 80's. One night on my way to bed, I paused on my way up the stairs to my bedroom, and gave her a pensive look. I shifted my weight to one side and put one hand on my hip and said with my very best "old sage" voice, "You know Mom, a mind is a terrible thing to waste." I had heard this quote often on a commercial for the United Negro College Fund, emphasizing the importance of education. I was apparently, deeply impacted by it and in my pre-school wisdom, felt the urgent need to impress it upon all the important people in my life. My mom just smiled with a twinkle in her eye and said, "Yes, that's true, honey. Now go to bed."
Although very young at the time, I was beginning to grasp that the mind is a mighty tool–worthy of strengthening, enriching and using. What I couldn't yet know is how the thoughts in our minds have the power to shape how we see ourselves and the world around us. When focused on the right thing, our minds can be sharp and clear. But if we are bound up in deception and lies, we become captives by the enemy's greatest tool. Because of this, it is paramount that our thoughts be firmly established in truth.
As an adult I struggled at different times with this idea of grounding my thoughts in truth. Out in the real world, life had its ups and downs as responsibilities and stresses began to stack up. Anxiety and self-doubt would creep in from time to time. For a season, a relationship left me riddled with insecurities, shattering my confidence. The problem I had, was that I was relying on my own mind and it's interpretation of what is true about me and about my life. I saw things through the filter of self-preservation and protection, where the path of least resistance was valued over what God was calling me to do, and who God was calling me to be.
I felt like a prisoner to the choices I had made and stuck on a path that was leading to nowhere. It wasn't until I read the book "Loving God With All of Your Mind" by Elizabeth George that I was challenged to change my thinking, not out of sheer self-discipline, but in response to the loving Savior who wanted to set me free from the mundane and meaningless.
It began with an exercise of obedience, first my obedience to God, and then making my thoughts obedient to Christ. Paul gives us some great imagery of taking every thought captive and making it obedient to Christ.
We demolish arguments and every pretension that sets itself up against the knowledge of God, and we take captive every thought to make it obedient to Christ."

2 Corinthians 10:5
In every situation, we have a chance to stop right in our tracks and choose which way we will allow our thoughts to take us. Will we see everything that is going wrong and let our minds wander to the worst case scenario? Or will we zoom out to an eternal perspective and trust that God has our very best at heart and will never forsake us? Will we allow our thoughts control us, forcing us into a defensive and reactive posture? Or will we capture our thoughts and measure them against what Jesus says is true about who He is and who we are?
It is in the light of His truth that we can turn our minds away from the tape playing over and over in our heads and focus on Jesus instead. It takes practice and we have to work hard at it, but the reward is unrivaled peace and incomparable joy.
Philippians 4:8 says, "And now, dear brothers and sisters, one final thing. Fix your thoughts on what is true, and honorable, and right, and pure, and lovely, and admirable. Think about things that are excellent and worthy of praise."
The first word in the list of things to focus on, is whatever is true. When we hold firmly to the truth about who God is and who we are in Christ, we have freedom and joy. We are shaped to be more like Christ and we are no longer bound by insecurity or fear. We are free to love ourselves, our families, and our neighbors. We are free to step into our calling when God says go, and free to say no to the things that are not in step with the Holy Spirit's lead. We are free to live life abundantly. Jesus even promises that when we remain faithful to follow Him, we will know the truth and the truth will set us free! (John 8:32) 
In what area of your life could you use a little more truthful perspective? What wrong thinking is playing on loop in your mind and needs to be taken captive and made obedient to Christ? Take some time to pray this week about it. Ask God to help you seek the truth about who He is, who you are, and who you can be, in Him. We'd love to pray for you too! Feel free to drop us a line at info@experiencerevival.com and our prayer team will hold you close in prayer. Together, let's tune our hearts to hear His voice above the noise, inviting us to a life lived in freedom and truth.