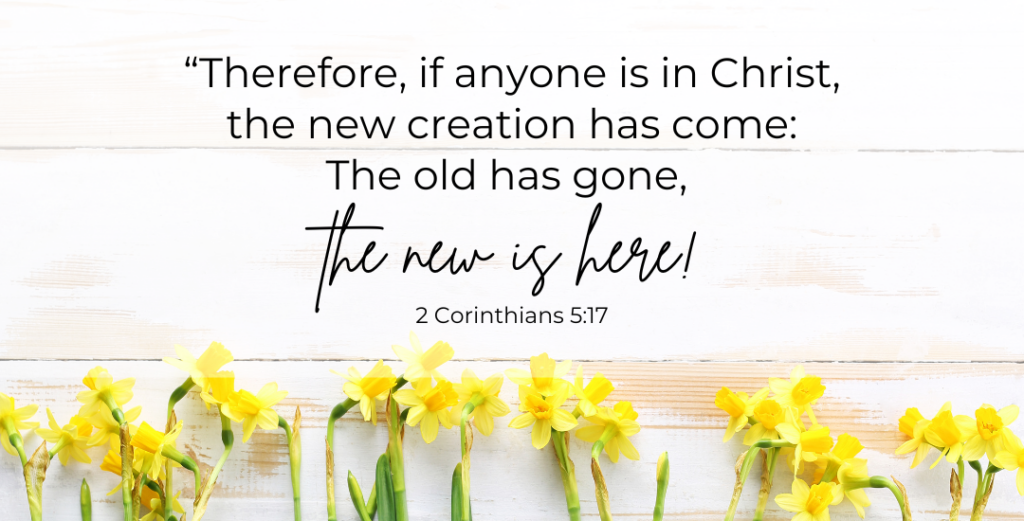 With flowers popping up, and more blue-sky days in the week, the optimism of a new season is all around. Especially coming out of dark winter, the light and new life of spring offers a welcome reprieve, full of promise and hope.
I have been inspired by all this newness to do some spring cleaning. I opened up the windows to let in the breeze and aired out the all stale corners of the house that haven't seen the bright light of day in a while. I even dusted the hard-to-reach places.
Personally, there are parts of my heart that could use the same treatment. There are hidden corners in my soul that haven't seen the bright light of day in a while. Parts of me that are still holding on to old ways instead of walking renewed in the light of Christ.
I sometimes forget the power that we have through Jesus. His story did not end at the cross, yet often I live as though it did. The comfort of consistency quietly draws me back into old familiar ways, even when I know there is a better way. Whether it is a lack of self-control, being short-tempered, or even just a bit lazy, if I am not intentional about letting the Holy Spirit renew my mind, I miss out on the freedom and joy of living in the light.
What if we all believed in and lived out the truth that the cross was not the end, it was the plot twist? When all seemed lost, Jesus overcame death, and the grave, and rose to life again. When we choose to follow Christ and clothe ourselves in His righteousness through baptism, the old ways fade away like snow in the early spring. We can throw open the shutters of our hearts and breathe deeply of new mercies, not just once, but every morning. We are released from the slavery of sin and are made new by the same power that raised Jesus from the dead. In Christ, we are raised to new life–to walk in new ways, running toward new hope.
There's a great illustration of this in one of my favorite movies, the Coen Brothers' comedy, O Brother, Where Art Thou? Three escaped convicts, Everett, Delmar, and Pete are on the run and have just narrowly escaped the sheriff and his hounds. They pause for a moment in their journey to build a fire, eat, and rest, when they hear some faint singing.
The three men stand bewildered, as they watch a church congregation walking toward a nearby river to be baptized. Delmar sees a chance for redemption, and the draw is irresistible. He runs as fast as he can to the water, confesses his sin, and is baptized. When he comes up out of the water, he looks to his companions and calls out to them from the shore, "Well, that's it, boys! I've been redeemed…It's the straight and narrow from here on out, and heaven everlasting is my reward. The preacher says all my sins have been washed away! Neither God nor man's got nothing on me now! Come on in boys, the water is fine."
As strange as it may sound, I can't watch this scene without thinking of my own baptism and tearing up. While I didn't "knock over a Piggly-Wiggly" like Delmar did to earn his jail sentence, I have had my share of mistakes. I've had sin in my life that I wanted to be washed away. I've longed for the ultimate spring cleaning of my heart to lead me to the freedom of a new life in Christ.
Throughout the rest of the movie, Delmar sticks to his promise. He is a new creation. While the company he keeps continues to be a little rough around the edges, the film culminates with his friends' ultimate repentance and an allusion to their salvation. And while O Brother, Where Art Thou is not a Christian film, Delmar's response in this particular scene reminds me of Ephesians 4:21-24 (NLT):
"Since you have heard about Jesus and have learned the truth that comes from him, throw off your old sinful nature and your former way of life, which is corrupted by lust and deception. Instead, let the Spirit renew your thoughts and attitudes. Put on your new nature, created to be like God—truly righteous and holy."
We have an opportunity every day to throw off the old ways and run toward new life in Christ. With a childlike faith, we can lean into the love of Christ, take hold of the redemption offered to us, and live empowered by the Holy Spirit, being continually renewed and made to look more like Jesus every day. What spring cleaning needs to be done in your life? Come on in darling, the water is fine.