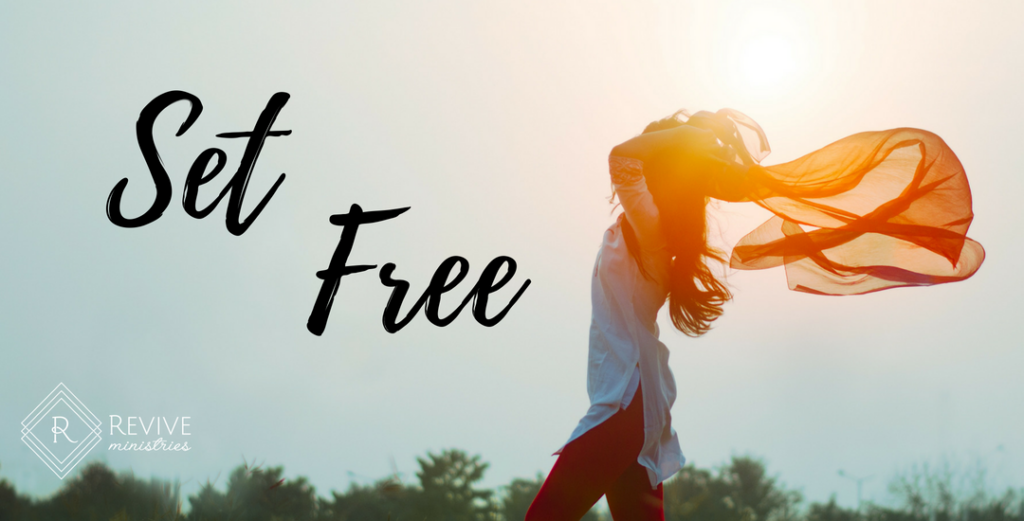 In America, we live in the home of the free and the brave. But what does it mean to be free? With Independence Day this week, I decided to look again to see what the Scriptures have to say about freedom. I discovered that there are a lot of references to freedom. In John 8:31-36, Jesus tells the Jews that once they know the truth, the truth will set them free. They are confused because they didn't even know they needed freedom. They said, "We are Abraham's descendants and have never been slaves of anyone. How can you say that we shall be set free?" To this question, Jesus replies: "Very truly I tell you, everyone who sins is a slave to sin. Now a slave has no permanent place in the family, but a son belongs to it forever. So if the Son sets you free, you will be free indeed."
We may live a country that is "free" but are we free the way God intended?? Are we living in captivity without even realizing it to addiction, sin, illness, fear, insecurity, broken relationships or financial crisis? Jesus came that we may be set free in every way: physically, spiritually, and emotionally. He came to restore and give us true freedom. A long time before Jesus arrived on earth, the prophet Isaiah spoke of Jesus' coming ministry and purpose on this earth that later Jesus himself would proclaim.
The Spirit of the Sovereign Lord is on Me, because the Lord has anointed Me to preach good news to the poor. He has sent Me to bind up the brokenhearted, to proclaim freedom for the captives and release from darkness for the prisoners, to proclaim the year of the Lord's favor and the day of vengeance of our God, to comfort all who mourn, and provide for those who grieve in Zion—to bestow on them a crown of beauty instead of ashes, the oil of gladness instead of mourning, and a garment of praise instead of a spirit of despair.
"They will be called oaks of righteousness, a planting of the Lord for the display of His splendor. They will rebuild the ancient ruins and restore the places long devastated; they will renew the ruined cities that have been devastated for generations" (Is. 61:1-4, Luke 4:16-21)
Jesus came to restore what was broken in this world and in his creation. Through his ministry and ultimate sacrifice, he ushered in a new way of life and brought hope for a renewed and restored creation.
"Therefore, there is now no condemnation for those who are in Christ Jesus, because through Christ Jesus the law of the Spirit who gives life has set you free from the law of sin and death. For what the law was powerless to do because it was weakened by the flesh, God did by sending his own Son in the likeness of sinful flesh to be a sin offering. And so he condemned sin in the flesh, in order that the righteous requirement of the law might be fully met in us, who do not live according to the flesh but according to the Spirit.
"For those who are led by the Spirit of God are the children of God. The Spirit you received does not make you slaves, so that you live in fear again; rather, the Spirit you received brought about your adoption to sonship. And by him we cry, "Abba, Father." The Spirit himself testifies with our spirit that we are God's children." Romans 8:14-17
Because of what Christ accomplished through the cross, we no longer need to live as slaves to sin and fear. For if we are in Christ, we have received his Spirit and He has set us free from the law of sin and death. We are no longer slaves to the things of this world but instead are the children of God. The power of sin and death has no hold on us any longer because the Christ has conquered both and His spirit now lives in us. And we know that "where the Spirit of the Lord is, there is freedom" (2 Cor. 3:17).
As we learn to live from day to day in the power of the Spirit, we continue in that freedom. Freedom means that we are no longer compelled to obey the things that mess up our lives and threaten to enslave us, but we are now free to follow a new and better path–one that leads to peace, joy and life to the fullest, the way God intended. As you take a moment today to reflect on freedom, thank God for the freedoms in our lives and for His Spirit that has truly set us free.
Happy 4th of July!!