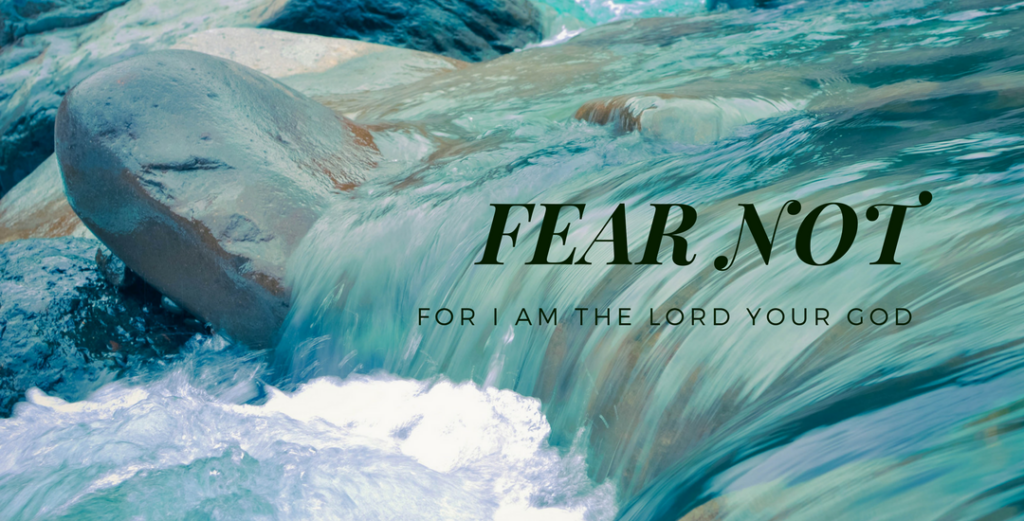 "Fear not, for I have redeemed you; I have called you by your name; You are Mine. When you pass through the waters, I will be with you; And through the rivers, they shall not overflow you. When you walk through the fire, you shall not be burned, Nor shall the flame scorch you For I am the Lord your God, The Holy One of Israel, your Savior…" Isaiah 43:1-3
I must admit, lately I have been struggling with fear. Not the healthy kind of fear, but the horrible kind that can immobilize you and keep you from living life to its fullest. The kind that can get a grip around you and make you worry about the worst case scenarios. The problem is that I start to make decisions based out of this fear. Fear changes how I see the world, myself, and others.
During a time of prayer this week, God brought the verse above to mind. At first, I wasn't sure why, but as I read over the words I realized something: the opposite of fear is trust.
In the verse above we see that God starts the verse with "fear not". As we keep reading we see that he says that we don't need to fear because He has a firm hold on us; we belong to him and he will protect us. As I read this, it makes me think of how a parent would comfort a child who is afraid. When my daughter is in bed at night and fearful of the monsters lurking in her closet or under her bed, I come alongside her and hold her. I tell her that she does not need to be afraid because I am there and I will protect her. More importantly, I tell her that God is with her and He is bigger than any monster. 🙂
Our fears may not be imaginary like the monster under the bed. You may be facing some real fears such as not having enough work to make ends meet or of the future or of being alone. But God still draws near and whispers in our ear, "Fear not, I am here. I am the Lord your God and you are mine. I am mighty to save." Something amazing happens to our hearts and minds when we choose to trust. In trusting, we are no longer giving power to our fears. We lay each fear into the hands of God and that trust will bring us peace.
So whatever fear you are currently facing, God is bigger than them all. Trust in Him. As the river of fears this week attempt to overwhelm you or the flames of your worries rise up, remember that God is with you. He can calm the waters and douse the flames as we lean into him, trusting him to be who he says he is—The Holy One of Israel, our Savior!